Played a quick scenario this afternoon.
M36 Jackson, a 75mm Sherman and a 76mm Sherman took on a PZ V Panther.  Panther was in a treeline, with the three US tanks behind bocage.  It's a mismatch, but added an elite commander, gunner and loader to the Panther's crew.  No additions for the US.
Decided that moving through the bocage would take one move, but without a movement modifier  reducing  the chance of a Panther to-hit die roll.
The  M36 would provide a base of fire, with the  76 mm Shermans maneuvering to engage the Panther from the front, with the 75mm Sherman trying to outflank it.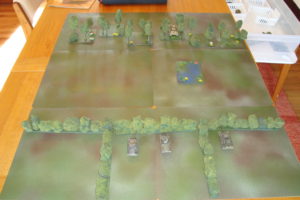 Well, it didn't take long.  The M36 put three hits on the Panther in Turn 2, and in Turn 3, the 76mm Sherman put another three hits on the Pz V.  Take a look at these rolls….hits on 4-6, with a 6 being a critical hit.  Defense has to roll 4-6 to take off a hit.  Blammo!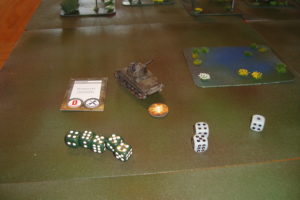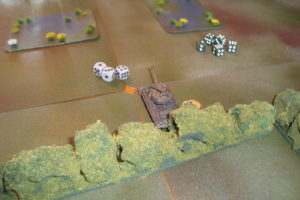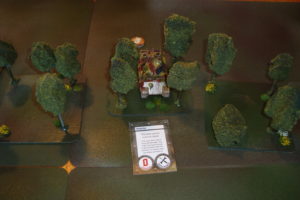 Quick game, and an unexpected outcome.  Will try it again and see what happens.
Next project up, the buildings.  Oh yes, that was a complete bone-head move.  Spent the extra money to have laser print copies made – as per instructions' recommendation.  Forgot to reduce them to 50 percent for 15mm.  Files are for 28-30mm.  Doh!