Nice song by Elvis Costello.  Wargaming theme…..Falklands.
Finished up my last complete ship and pinnace last night, as discussed earlier in my New/Old Project post.  Here's a couple of photographs of the fleet.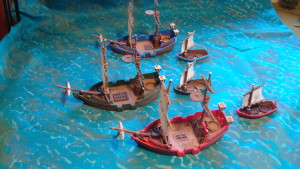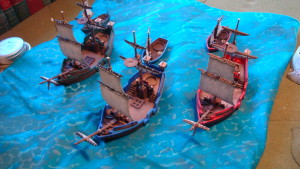 Indifferent photos, as usual.  I just can't work up the enthusiasm for precise, dynamic pictures.  Working on it.
These should be a start for the East African project.   No fleet actions, but they might make for some tactical fun, or at least Pretty Up The Battlefield.  Not a bad thing at all.
Also finished up the two forts, and will finish the  the palm trees also included in the boxed sets.