Christmas is over and company's gone.  First opportunity to get back to Drive on Washington for about a week.
This is a simulation of the Battle of Monocacy, where, depending on who you read, a Confederate attack on Washington DC was stopped by General Lew Wallace of (later) Ben Hur fame.
This SPI game is supposedly hard to find judging by the price out on EBay.  I picked up a copy on the cheap a couple of years ago, and like most things, it was a little too good of a price to be true.  The box was badly battered, and the rules looked like they had been last used to house train a dog.  Still, the map was in great shape and all the counters appeared to be present.  Wrong again.  Missing three counters; one Confederate leader and two Union units.  Still, I can play the game.
Union forces are deployed at fords or bridges along the Monocacy River in an attempt to guard approaches to Washington DC.  Four separate Confederate divisions are placed in general areas, poised to attack, but must first by activated by their overall commander, General Jubal Early.  Early's arrival is rolled for each turn, with a roll equal to or less than the game turn placing him on the map.  Division activation occurs when Early passes within ten hexes of a division commander.  The division may move the turn after it is activated.  The Confederates may also search for a ford on the Union left.  The discovery of the ford is handled  by a random chit pull.  The Union may destroy the "Wooden Bridge" denying the Confederates one crossing point by rolling a one or two, but cannot destroy the Railroad Bridge.  The bridge to the right of the Union line is weakly defended, but some distance from the Washington turnpike.
It took four turns to find the ford, six turns for the entire Confederate force to be activated and moving, and three turns to  burn the Wooden Bridge.
The stage is set for a series of sharp and vicious fights to force the bridges and known ford, or to quickly locate the ford on the Union right, and envelop the forces deployed along the Monocacy River.
As with my other games playing the Great Battles of the American Civil War (GBACW) system, fire combat is not always  bloody, but in most cases will stop an attack through either a rout or pin result.  By 1864, Union cavalry units had carbines.  Their 5x adjacent hex firepower stopped Rebel cavalry from seizing key terrain on the Union left, allowing Truex more time to react to Gordon's division moving across the now discovered ford.
By Turn Six, the game was really moving.  Here's a few photos showing the situation before and after the turn.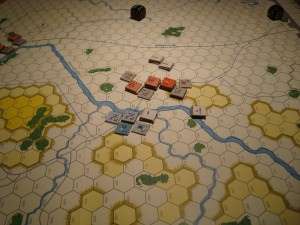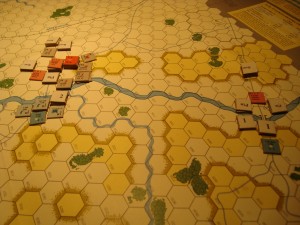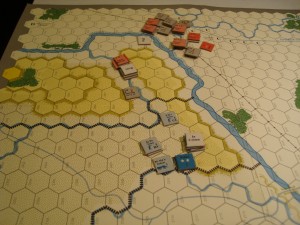 I'll pick up the narrative after Turn 7.