Turn 7 saw Terry/Gibbons' continued success in the south and a lack of "Custer's Luck" in the north.
Terry/Gibbons cleared all  hostiles south of the Little Bighorn. But, Custer's force was attacked and mauled by White Bear.   Despite this loss, the Army now has 19 VPs,  the the hostiles have scattered to the fringes of the map.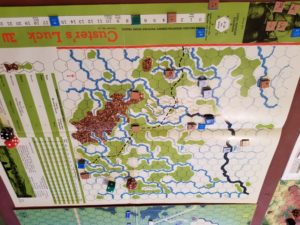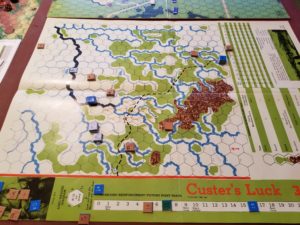 I probably screwed up the rules (shocking!) when it came to the requirement that hostiles retreat after combat (disregarding the 8-12 roles that called for them to remain stationary).  Probably cost the hostiles some VPs, but it didn't intefere with my enjoyment of the game.
Going to pack this one up to make way for 1942.  But, this isn't because Custer's Luck is a bad game.  It's fun;  a good solo romp that has a quick set-up time, easy rules, and, yes, randomness.
You get a glimpse into the problems faced by the Army during these campaigns.  "If only they'd stay still….we could get 'em."
I'll play it again.
Tim's in this weekend for another go at Red Star/White Eagle.