Back in Sunfish Capital of The World. The 1942 game is on hold for the next week or so.
Set up and played Swordfish at Taranto. This is another of Gary Grabner's solitaire designs published by Minden Games.
The game mechanics are straightforward and, as with most/all solitaire games, involves significant wristage. The player commands the 21 Swordfish torpedo bombers that took part in the mission. Playing time is 30-45 minutes, with much of it allocated to the preliminary Mission Planning and Harbor Readiness steps.
In the Planning step, the player uses a pre-printed log to assign which of the two attack waves each plane is in, its payload (bomb/flare or torpedo), its approach towards the ships anchored at Taranto, and target (anchorage, shore facilities) to be attacked. This log has each pilot and plane's identification number already filled in.
Next, the player rolls to determine the harbor's alert, anti-torpedo net and barrage balloon status. These can create DRMs during the Approach step.
Each of the two attack waves follows a series of steps, with each aircraft rolling a six sided die for outcomes.
The Take Off and Outward Flight step determines if any of the aircraft suffers mechanical or navigation issues, which may abort their mission or cause problems later.
Flares are deployed in the next step. The failure to deploy flares effects attack results.
The next phase is the Approach step, followed by Target Acquisition and, finally, Attack step. A series of tables determines any damage to each aircraft, which ship it attacks, and results of the attack.
The Homeward Flight and Landing step determines which of the surviving aircraft land safely. Damage incurred during take off, approach or attack can effect this outcome.
Victory points are awarded for minor damage, major damage or sinking a capital ship, as well as damage to smaller craft and land installations.
Despite the laundry list of actions required for each aircraft, the game plays quickly. The charts are embedded in the rules (as is the Log), but are not spread out and organized sequentially by phase. You can literally work through the rules/charts while playing.
The map is small, with rudimentary graphics. I would recommend using a copier to increase its size to allow more room to place individual aircraft counters.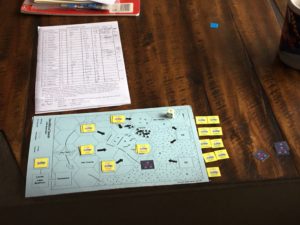 I lost two planes during the attack, and one on landing. The two waves sank three battleships and inflicted other damage. This resulted in a win exceeding the historical result. I was lucky, just like the actual attack force. I decided to quit winners.
Swordfish is a fun little game, worth a play or two when time and space is tight.