Had a great experience with Drive On Stalingrad (DOS) this weekend over at Tim's.  Of course, there was football to view, but we were able to get several turns in after our late Friday afternoon setup and initial play-thru.  As always, the first turn was brutal, so it was a quick re-set for Saturday's action.
The basic system is taken from Panzergruppe Guderian.  However, there are important differences.  I'll discuss these as the game narrative progresses.
Victory is determined by cities controlled, each of these has point value.  The Axis player (yes, there are Romanians and Hungarians) automatically wins if his victory point total is three times greater than his opponent.
Each side has constraints to their initial dispositions.  The Soviet player must remain on or within a ZOC of an initial defense line stretching across the northernmost of the two game maps.  The Axis player cannot use all of his units during the first turn.
Here's the initial setup.  North is to the left.  Only the ten or so hexes to the right are in the South map.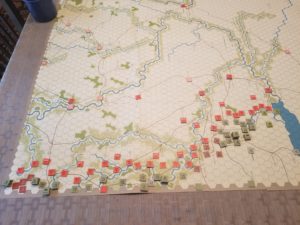 The Soviet player has a very limited ability to start with a defense in depth.  On the other hand, the inability to leave ZOCs slows progress for the Axis player, unless a Soviet unit is eliminated or forced to withdraw two hexes.  However, the CRT is relatively bloodless up to 10:1 odds, with most results requiring the choice between withdrawal or a step loss(es).  Punching big holes for the second movement phase (armor/mechanized units only), takes time.
Tim concentrated his armor in the North and South, aggressively advancing in the North.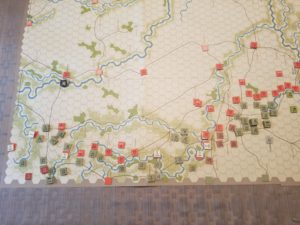 The Soviets receive 27 (!) units as reinforcements in Turn 1.  A total of three can be placed in a major city, with one each in smaller cities.  Eleven units can move up to 40 hexes by rail.  All I could do was patch up some type of defense in the North, and start pushing reinforcements eastward as fast as possible, using every city I could.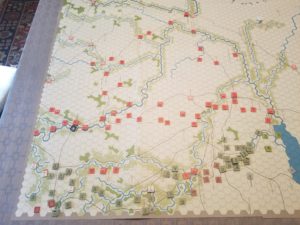 One terrible mistake was to allow the German SS unit to cut my rail line at Voronezh.  Any reinforcements coming by rail from the north had "to take the long way around."  As a result, three Soviet units were left as a "forlorn hope" to hopefully slow down an Axis infantry advance in the center.