Decided to go with the other mini-introductory scenario, Assault on Castle Hill.
Probably missing something, but the tactical options are limited.  After three play-thrus came to the conclusion that the only option for the Germans was to  kill the outpost units using a first impulse artillery attack.  Second impulse then into the outpost units' area, with the rest of the turn involved taking fire from the adjacent hex.   Turn 2, move-in to Objective Area 9, take the beating and hopefully win the close combat.
Big lesson learned…..one  attack can finish things.  Take a look at this photo of a Artillery Bombardment dice roll.  Yikes.  Game Over….BLAMMO.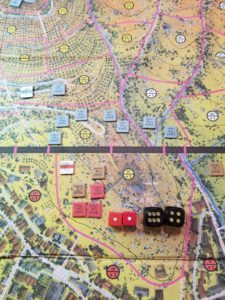 The scenario does serve its purpose as valuable learning tool.
Going to continue the grind and now, yes today, set up one of the two longer scenarios.