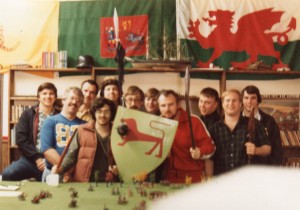 Well, they're the Kansas City Chapter of the Society of Ancients circa 1983.  Quite a crew.  I can remember a few names, and have a foggy notion of others.  I'd mention a few, but have a great fear of internet photo liability.
The locus was Yankee Doodle Game and Hobby in Grandview.  Great shop.  Lots of miniatures and a good selection of board games.  But he had to make a living, so there were lots of D&D items.  I won't discuss that clientele.
The shop was a clubhouse.  You could always go down and hang out.  Scott (owner) would be up front at the cash register, painting (helluva painter) and holding court.
I was snookered into buying a mound of half-painted MiniFig Dacians.  This army needs an experienced, sophisticated tactician.  That was not me.   The other players had either Romans, Byzantines or Steppe Nomads.  The Dacians never had a chance, not even when I figured out that I needed to get lucky and get lots and lots of woods.
There was a really big table in back.  Maybe 12×8.  On selected Saturday evenings the chosen few would have big English Civil War games with hundreds of Hinchcliffe figures.  The table looked just like something out of the (then) newly published Miniature Wargames magazine.  These games would start at closing time, and end well after midnight.  Lots of beer, pizza, and fun.
It was a fantastic introduction to miniature wargaming.