Back at the Pine Cone Lodge.
During the Allied (first) Phase of  Turn 2, the Japanese suffered a slight reversal when the Americans destroyed the disrupted unit in Northern Luzon, and their main attack in the Malayan Peninsula was pushed back by Commonwealth forces.
Despite this, the Japan build-up in both areas continued unabated, at the cost of the additional naval movement points to sustain the landing areas.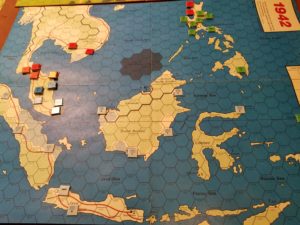 While the Americans were able to stall strong Japanese attacks supported by Formosa based air units, the Commonwealth suffered a severe defeat in Northern Malaya.  A bold (2:1 with +1 modifier due to naval air) attack resulted in four (!) Commonwealth units surrendering.
During Turn 3, the British commander,  faced with the possibility of overwhelming flanking attacks, ordered a general retreat into the Fortress of Singapore.  The Dutch responded by shifting their lone air unit to support Singapore.  Japanese units then moved to surround the fortress.  The Americans chose to consolidate their Northern Luzon defensive line and await the inevitable Japanese buildup and assault.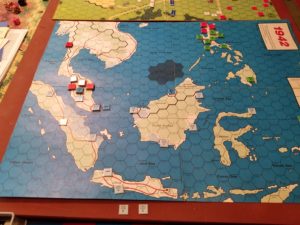 A good game!!!