After a truly abortive first turn of the Thunder At Cassino campaign, decided to regroup by playing a DBA (2.2) game that's been set up for…well maybe…six months.  Late Swiss vs. Some Mutant Army With Lots of Crossbows and Knights.  Hell….can't find anything like it in the lists.
Hammered it out Sunday afternoon during boring NFL action.
DBA is what it is.  Simple, Quick and Generic.  I'd like to see some chrome…. like Swiss having an extra bound to simulate their speed/audacity in the attack, or range differentials between bow types.  But, for that, I need to try DBM, or some other system.
For The Quick and Dirty, You Go With The Devil You Know.  Never played it FTF, and that is how it should be played.  Ugh…..cut-throat tournament action….guys with rulers down to the eighth of an inch…..all that facing stuff……Ugh.
It was fun.  I'll set up again, but with  Cavalry/Light Horse armies to stretch things out.
Here's a semi-lucid photo summary of the game.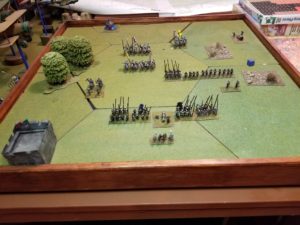 Turn One.  Light units Deploy. Swiss In Foreground.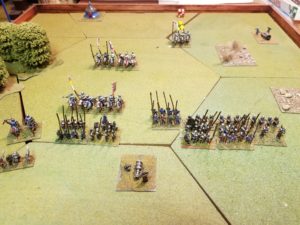 Mid-Turn 5.  Things Get Interesting.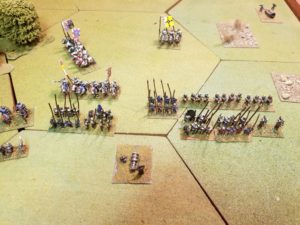 End Turn 5.  Pikes Struggling Against Bows(?!?)  While Knights' Attack Develops.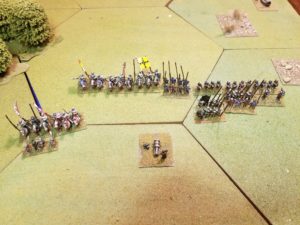 End Game.  Knights Quick Kill Pike, Swiss Left Wing Shattered.